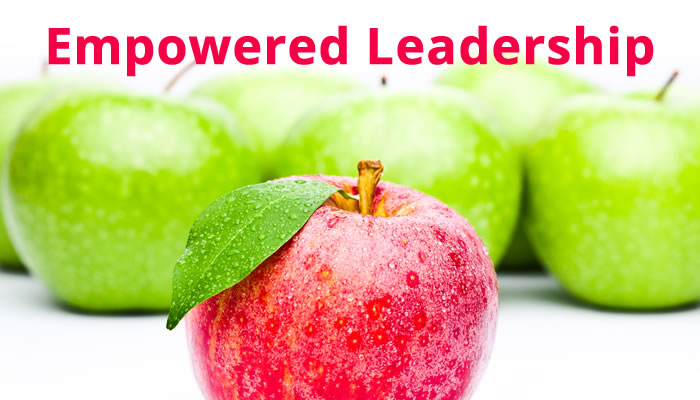 Want to inspire action? Great leaders understand that believing in your team brings out their best.
Here are five ways to empower your team to peak performance:
Be on Their Level.  When you talk down to employees, it's demeaning. It shuts off their capacity for higher problem solving.  You end up with an army of workers blindly following commands.

Instead, show others respect. By treating your team as equals, they will have more company buy-in.  When they have ownership of an idea and the approach, they will work harder to achieve your goals.
Listen. At Walmart, Sam Walton knew the power of listening.  That's why he had a greeter at the door of every store.

As a leader, your workforce has eyes and ears that see things unknown to you.  Be open to discovery from the experience, insights, and wisdom of all your employees regardless of their role.

They will appreciate knowing their contributions matter and their ideas are valued.
Tap Into the Wisdom of Others. Be willing to learn and grow. Life is too short to learn everything on our own.

Everyone is a teacher with wisdom to share. The most successful people know to stand on the shoulders of giants so they can go farther, faster.

Create an atmosphere of sharing.  Ask in meetings "do you have anything you'd like to add?"  Make it safe for employees to share their input.  And if you have an employee who isn't participating let them know you are interested in what they have to say about the topic.

Similarly, if you have someone who is taking up too much time during the meeting, thank them and tell them you'd like to hear what the others have to say too.
Connect with Stories.  There is so much power in knowing WHY something is important.  That's why stories can bring people together for a common mission.

If you have a goal, tell the story of your vision with powerful imagery in a way that captures the heart of your team.  If a mistake hurt your company, share the story of what happened and how it impacted you so your team can empathize and inspire change.

If you are in the process of building a new team or adding members, share the story of how and why your company started so they can buy into the dream.
Share Your Values.  Educate your employees on your core values. When you identify your company's core values you connect to employees on a heart level.

It will shape your company culture.  It can help you make decisions that align with your values. And it can motivate your team to do their best work when they have a clear sense of purpose.
Inspired leadership is not all about what you do, but about your ability to influence and empower others.  Be a leader who lifts others up and helps them to shine.
If you want to dive deep into discovering the type of leader you are and how you can make simple changes from this knowledge to help you build a successful business, Sign up for this CORE MAP assessment and we'll review your results together.  Or take this Authenticity Profile and I'll contact you for a free strategy session to review your results.
Business Leadership, Team Management